UTTARON
SME & Startup Service
UTTARON is the Bangla synonym of "Graduation", which is a "comprehensive, time-bound, integrated and sequenced set of services"* that enable small, micro and cottage entrepreneurs to achieve business sustainability and economic resilience, in order to contain and progress his/her enterprise to higher level of business.
UTTARON is an investment readiness programme for Small, Micro and Cottage Enterprises (SMCE), emphasizing on women and youth entrepreneurship in on-farm and off-farm activities.
Uttaron- Model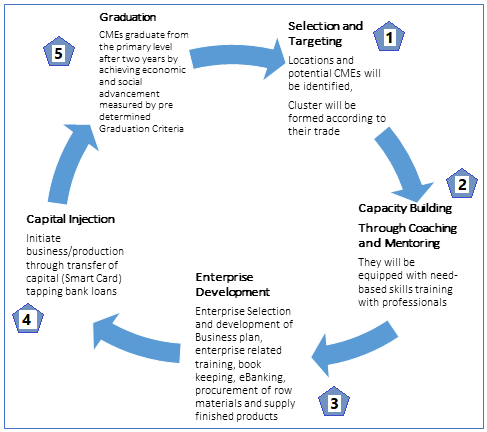 Objective:
The overall objective is to establish an SME Platform and develop Small Business Ecosystem to
increase competitiveness, create enabling SME environment and help deveop the socio economic condition of Bangladesh by reducing unemployment, hunger and poverty of the coutry.
This will be achieved through the following specific objectives:
Specific Objective 1: To coordinate/ organize SME stakeholders to establish business/ market linkage by creating SME related Big Business Idea and prepare the SMEs bank ready.
Specific Objective 2: To enhance SME capacity through mentorship, advisory services and skill training and ease services access to low cost, formal finance and provide quality and risk management service.
Approach and the Framework
The concept of UTTARON emerged as a disruptive approach to break the existing mind set or culture of SME Financing.
The framework of UTTARON evolved through a process of experimental research and learning from good practices to promote the small, micro and cottage enterprises who are facing challenges to grow and sustain their business and channelise loans from banks and formal financial institutions.
The concept of UTTARON has been evolved as an approach to address the challenges of "Access to Bank Finance" face by SME and Startups.
UTTARON offers a complete package that includes: business literacy, bookkeeping, market access and procurement of goods and services in cash or in kinds through an SME Card.